Geschuimd PVC gevelletters
Lichte en gunstige letters en logo's als gevelreclame voor binnen en buiten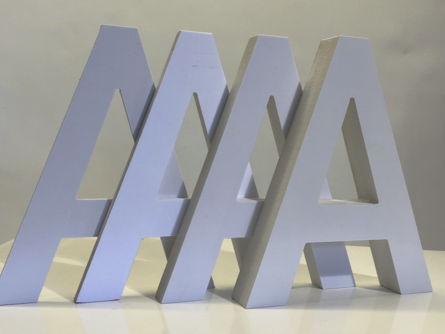 Lichte en gunstige letters en logo's als gevelreclame voor binnen en buiten.
PVC Gevelletters zijn de meest gunstige variant van gevelreclame en het beste geschikt om tegen een lage investering grote letters te maken. Het PVC is licht maar erg sterk. Bij het dikkere materiaal is aan de zijkant de structuur van het schuim zichtbaar, waar je rekening mee moet houden.
Het PVC hartschuim is stabiel maar kan beschadigen door een nagel of scherpe voorwerpen.
Wil je de letters buiten gebruiken, raden we het zogenaamde Kömacell aan, deze variant is beter bestand tegen vocht, is drukvast en beter bestand tegen beschadigingen.
PVC Hartschuim is beschikbaar in 2, 3, 10, 20 en 30 mm dikte.
Het PVC is heel goed te lakken in elke RAL kleur.
De letters of logo's kunnen eenvoudig worden voorzien van een kleurfolie of een kleurprint.
Als variant kun je het schuim voorzien van een Acrylaat-, Dibond- of RVS toplaag, waarmee de PVC gevelletters een hele andere uitstraling krijgen.