Dibond gevelletters
Strakke en stevige gevelletter in vele verschillende kleuren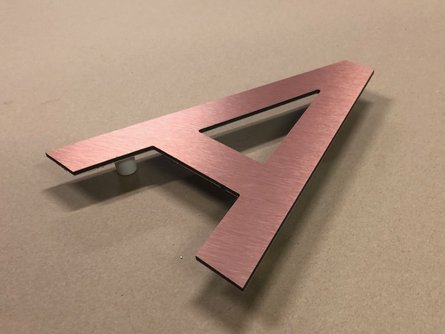 Dibond of Alupanel gevelletters zijn gewild vanwege de vele mogelijkheden. Het materiaal is gunstig en verkrijgbaar is vele verschillende kleuren, waaronder ook metaal-tinten. Je kunt het materiaal goed bewerken en het heeft redelijk goede eigenschappen bij het gebruik buiten.
Gevelletters van Dibond zijn opgebouwd uit 2 lagen Aluminium met kunststof ertussen. Het materiaal is zodoende zeer licht maar erg sterk en heeft veel minder uitzetting bij wisselende temperaturen. Hierdoor is het materiaal geschikt om buiten tegen de gevel te monteren.
Dibond of Alupanel gevelletters zijn verkrijgbaar in vele standaard (RAL) kleuren met als extra ook in vele verschillende metaal-tinten zoals zilver, goud, koper in de varianten 'brushed' of 'spiegel'. Hiermee leent het zich voor talloze toepassing in gevelreclame.