Backlight LED letter, van achter verlicht
Dunne LED letters, lichtreclame van achter belicht. Backlight wordt gebruikt bij donkere (voorkant)kleuren tegen een lichte achtergrond.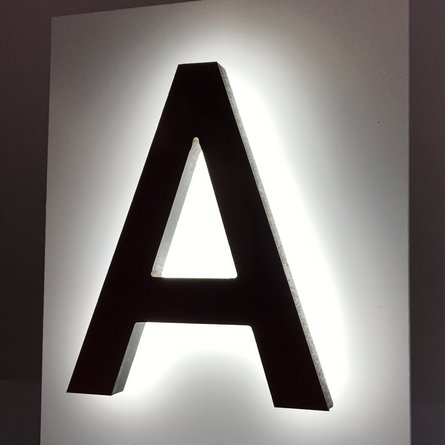 Backlight bestaat uit 1 deel waarin alles zit verwerkt: Het elektrisch systeem, de LEDs en de bevestiging. De LED's worden niet ingegoten, wat de levensduur ten goede komt en zorgt voor de mogelijk tot wisselen van de LED's.

De voorzijde van de letter is naar keuze gekleurd middels kleurfolie en lichtdicht. Het licht komt uit de achterkant van de letter. Dit geeft een mooi 'aura' of 'glow' rond de lichtreclame tegen de gevel. U kunt kiezen uit 18 briljante kleuren voor de voorzijde en 5 kleuren licht (LED) die de 'glow' geven.
De basis van de letter is van zwart acrylaat of wit geschuimd PVC. Zo ontstaat een robuuste kwaliteitsletter die jarenlang een een sjieke uitstraling aan uw gevel geeft, tegen een goede prijs.
Middels de unieke bouw van de letter en de montage ziet u geen schroeven en krijgt u geen druipsporen tegen de gevel. De Backlight lichtreclame werkt op een 12 Volt transformator en wordt aangesloten op het normale 220V stroomnet.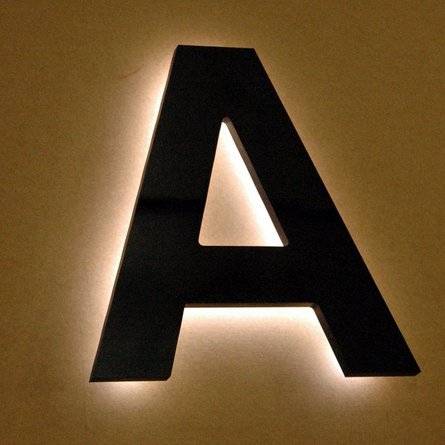 Backlight LED letter benefits
Your sign is solid and perfectly sealed and is therefore 100% dirt and waterproof on the inside
All electronic components are sealed, not casted, preventing corrosion of all electronic connections
No visible screws nor attachments on front or side
Your sign is designed to be mounted at ± 0.8 inch (20mm) from the wall preventing water dripping
Easy to use power-line through the signs for solid power connection
Extremely low power consumption
The housing of the signs (12 mm, 1/2 inch thickness) guarantees maximum light sharpness and visibility from both short and long distances
You can choose from 18 briliant colours
Failure of one LED will not impact the other LEDs
[Translate to English:] Download Slimline LED letters information